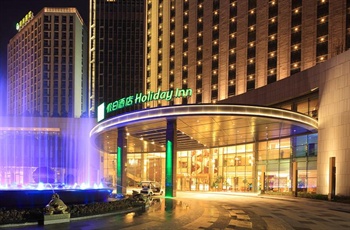 The Holiday Inn Nantong Oasis International (Nantong Lvzhou Guoji Jiari Jiudian) is a deluxe hotel located about 2 km from Nantong Railway Station and 22 km from the Nantong Xingdong international airport.
Rooms at this Nantong hotel range from superior rooms to presidential suites, all of which are designed in a sleek, contemporary style and boast satellite TVs, work desks and high-speed internet access.
On-site dining options include Brazilian, Western and Chinese restaurants. The Executive Lounge offers afternoon tea and evening cocktails.
Meeting rooms and the banquet hall are available for conferences and events. The business center offers printing, fax, copy, email and IT services.
Guests also have a fitness center, swimming pool and spa at their disposal.